Remote camera systems
Snowgrass Solutions specialises in camera installations with an emphasis on tourism, remote site monitoring, or for use as a "webcam" for websites.
Our other specialty is for remote cameras. These can be mounted anywhere, from the roof of an airport control tower to an alpine mountain top.
Solar powered cameras
Snowgrass Solutions specialises in solar powered cameras. In addition to operating a fleet of solar powered rental cameras, Snowgrass can lease solar power supplies to customers for operating permanent cameras.
Solar power supplies are generally not "plug, play and forget systems". Variable weather and the shorter days of winter result in variable operating conditions that require ongoing monitoring of the system. Therefore our solar systems are leased to the customer and monitored by Snowgrass Solutions as part of their growing fleet of rental cameras.
There are two basic types of camera systems in today's technology. Analogue and I.P./network. (digital)
Analogue cameras provide low to medium resolution video through coaxial cables and are ideal for small CCTV systems requiring a low cost recording solution.
IP cameras install into standard computer LAN networks, such as that used by business and home users and can provide medium to HDTV resolution video and images via that network and to the outside world.
IP cameras have the advantage of being accessible from anywhere on a computer network and if access to the Internet exists, can be accessed from anywhere a reasonable Internet connection is available.
IP cameras can be connected into an existing network, reducing installation costs and making the camera's video output available to any authorised computer on a LAN network or Internet.
Download a brochure on our professional webcam service. Download here
See examples of camera systems we have installed on our Projects page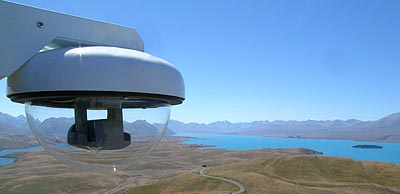 PTZ IP camera on hilltop overlooking Lake Tekapo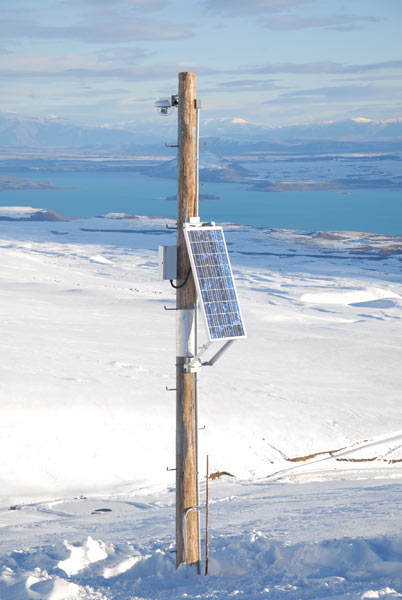 A solar powered webcam for ski field/tourism role.
Connection can either be via wireless link or 3G connection
through a mobile phone provider
Types of IP cameras include,

High Definition cameras

New to the market are a range of "megapixel" and HD cameras.
Megapixel cameras are currently available in up to 8MP and can output HDTV video.
HD cameras are available in 1080p (1920 x 1080 pixel) or 720p (1268 x 720 pixel) formats.

H.264 video compression allows for economical transmission of high quality video over local area networks or short term transmission over standard broadband Internet connections for remote viewing.

Applications include monitoring areas requiring detail, or transmission of video over long distances for display onto a large 16:9 monitors. ie. display of ski slope action in the nearest town over a long range radio link.

Click here to view examples of mega-pixel and HD cameras
PTZ (Pan-tilt-zoom) cameras

PTZ cameras can be controlled remotely through Local Area Networks (LAN) or remotely via the Internet to provide a flexible solution for tourism, monitoring and security applications.

Snowgrass Solutions can instruct PTZ cameras to autonomously capture a series of views and upload to web sites, replacing multiple cameras with just one.

Strong zoom lenses provide impressive magnification for displaying detail of distant objects and views.

PTZ cameras are available in resolutions from the standard 640 x 480 resolutions through to 1920 x 1080p HDTV format.
Fixed outdoor cameras

While a number of IP cameras exist on the market, many are unable to reproduce quality colour images throughout the large variations in light conditions that occur during the normal day and through changes in weather.
Snowgrass Solutions can provide a number of options in the supply of cameras with lenses suitable for outdoor use.

A range of camera enclosures is also available.
Indoor cameras

Cameras installed in indoor environments where lighting conditions remain considerably uniform can allow the use of fixed aperture lens, reducing camera costs.
A number of indoor camera options are available for different budgets and applications.
See examples of camera systems we have installed on our Projects page
Contact us regarding the installation of a system for you.
P +64 21 338567
F +64 3 3221116

After hours
+64 3 3221115

Snowgrass Solutions is a division of
Mackenzie Business Ventures Ltd