Data radio
2 or 5 GHz data bridges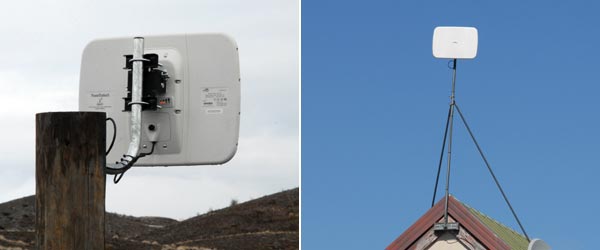 Snowgrass Solutions utilises high powered, high speed radio links to provide high speed data connections as part of point-to-point data bridges for their camera and other data based installations.
3G mobile routers
Snowgrass Solutions found a growing need for remote and reliable data connections where it wasn't possible to use a 2 or 5GHz wireless link.
In late 2009 New Zealand's mobile phone providers launched their rural 3G services. 3G routers rapidly entered the market, but were often found to be intermittent and a typical connection method was through cheap USB 3G modems.
Snowgrass Solutions developed their own sophisticated router using modules from different manufacturers and using an embedded 3G modem, were able to connect it to external antennas for use in weak signal areas.
With any device that connects to the Internet using relatively expensive connection methods, security is vital. The 3G router used by Snowgrass Solutions has a comprehensive firewall and quickly blocks repeated attempts to hack it.
Several mountain top based webcams designed and installed by Snowgrass Solutions use already using their 3G routers for reliable data connections with the outside world.